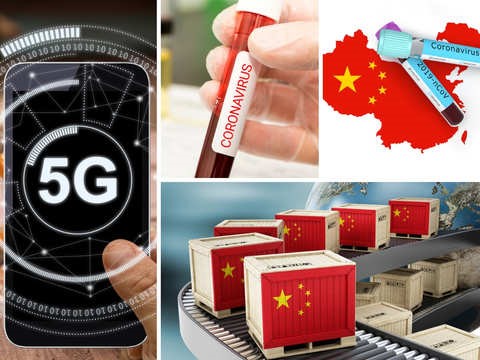 USA and China War for 5G supremacy
This is Part 3 of the USA and China War for 5G supremacy, COVID-19 economy and the oil politics.
Today I will be discussing the 5G war supremacy which is the most critical and will define the future.
2. What is 5G?
This is the frequency band between 24 and 72Ghz. The 5G will usher in a technological revolution that will connect all things (Internet of Things). Connected cars, doctors connected to patients through a device, virtual reality to help you shop and students learning from home, artificial intelligence taking charge and the herders having their cattle monitored and the map of Benue and Plateau on 3D to fight crime and our killers.
The electromagnetic wave within 5G band is non ionizing therefore cannot displaced an electron from a parent molecule. By implication, it cannot damage the DNA or the configuration of the human body and poses no health hazard to human life and the ecosystem.
Note that before any device that radiates non ionizing electromagnetic wave is released into the market, it is certified by International Commission on Non-Ionizing Radiation Protection (ICNIRP), World Health Organization and IEEE. They determine exposure limits and all 5G devices must pass all these tests.
All the conspiracy theories are just to keep the third world busy until they are ready to lunch the sixth generation (6G). It's not a new road, the same conspiracy theories during 4G.
3. Why is USA Fighting China over 5G?
It is projected that 5G will spring millions of new industries, millions of new jobs and multi trillion dollars in economic growth.
In February 2020, the Attorney General of USA said "China's Dominance of 5G Networks Puts U.S. Economic Future and Security at Risk". He said Chinese companies were winning the fight for the next generation of telecom networks, posing both an economic and national security threat to America.
Most threatening to USA is the fact that China will easily use the technology to access data and communications, mine data, monitor and have surveillance over the world.
Two Chinese telecos, Huawei and ZTE, hold about 40 percent of the global 5G infrastructure market. America along with all other countries of the world account for the remaining 60%.
This infrastructure will serve as a backbone for trillions of dollars' worth of economic and industrial activity in the global economy. America is discussing with it's allies not to install equipment made by Chinese telecom companies in their systems but for how long since they have no cheaper option?
For the first time in history America will not lead in a major technology that will define the future and are losing out in millions of jobs and billions of dollars. This is emerging as real reason for the battle between the United States and China for supremacy.
I have deployed Huawei equipment back in 2011 when I was Director of ICT in the university. They are far cheaper, and they come with flexible payment option. This is the major reason for their global penetration.
4. Brief History of Chinese Industrial Revolution.
It is worth noting that China lunched three industrial revolutions but they all failed woefully. First and second attempts to industrialize China were made between 1861 and 1911. The attempts did not only failed but left them in huge debts.
Between 1949 and 1978, the Communist Government initiated the third attempt using Soviet Union's model to industrialize China but it failed. Their greatest setback was President Mao's disastrous 1966 to 1976 banning of primary to tertiary education and forcing citizens into labour and ideological re-education camps.
The successful industrialization program commenced in 1978. China set up their schools and invested heavily in science and technology education.
China now have 11,700 technical schools and only 2,914 colleges and universities. Ratio of one higher institution to 4 technical schools. Benue state have one technical school with 13 higher institutions and Plateau state have one technical school to 14 higher institutions. While China have one higher institution for every 4 technical school, we have average of 11 higher institutions for every one technical school.
The story is similar across the country. We are top heavy without lower skills to drive industrialization. Certificates will not drive the industrial change we are dreaming of. When we all hit the brick wall of which we will surely do, we will all sit to discuss.
5. Why is China Taking the Lead?
China now have indisputable lead over USA in innovation, science and technology because of their massive investment in science and technical education, and generating science-skill manpower that can support both low and high tech. USA for years have been outsourcing those critical skill jobs to China because of cheap Labour. Now they are stranded in the middle of nowhere.
Secondly, China has over the years sustained their investment in science and technology education and have overtaken all nations in investing in research and development. In 2018, China spent $554 billion on research and development and budgeted $564 billion for education (source Wikipedia). Their R&D budget accounted for 20% of the total world R&D expenditure. They are light miles ahead of USA and the entire Europe in R&D investment.
Today, they are simply unstoppable and reaping the fruits of their investment.
6. Wrong Expenditure By USA.
From 2001 till date (19 years), America has spent $6.4 trillion to prosecute wars in Afghanistan, Iraq, Syria and Pakistan but spent only $116 billion in 2017 on research and development. Spending average of $100 billion on research per annum with their expensive economy, makes it of little value compared to China. They have spent more on war than on research and development.
The time of flying jets, dropping marines and enveloping nations with Military hardware to enforce obedience has past. America must change tactics and it must be fast.
7. Conclusion
There is a new normal called China. The new sheriff is already taking charge of 5G jobs, money and surveillance of the world. While our conspiracy theories against 5G are built on religion and emotions, they are in the laboratories working on the next scientific inventions
Truly 21st century belongs to China and it is not just a prediction.
Look out for Parts 4 and 5. I have added part 5 so that we can dedicate it to lessons for Nigeria and part 4 will be dedicated to what China is doing to make enroute into nations.
Good evening my neighbors.