PRESS RELEASE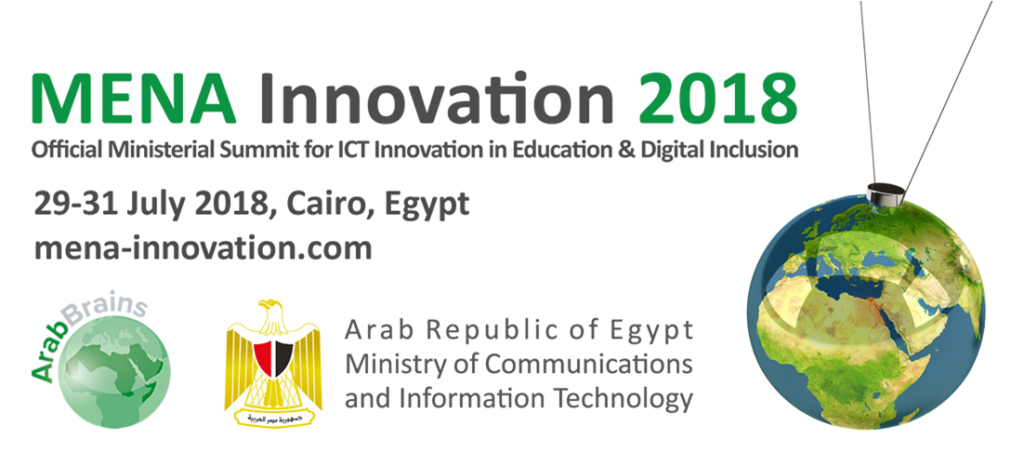 Industry and government are looking forward with anticipation to MENA Innovation 2018 which will see the gathering of ministers and government officials,under the patronage of HE Yasser El Kady, Egyptian Minister of Communications & Information Technology. The summit will take place over three days at the Dusit Thani, Cairo, 29 – 31 July. Up to 25 Middle Eastern and African countries will be represented at the summit, with invitations already sent to regional ministers of ICT, education and higher education; allowing captains of industry and investors to engage in pre-scheduled meetings with ministers and officials.

Confirmed participating countries already include, Cyprus, Ethiopia, Ghana, Greece, Iraq, Jordan, Lebanon, Oman, Palestine, Saudi Arabia, Uganda, UAE.

The summit will be a hive of activity as government officials comprising of ministers, secretaries of state, deputy ministers, permanent secretaries and director generals are joined by board level members from some of the world's leading education & tech companies includingToshiba, Cambridge University, HP, JP – Inspiring Knowledge, Discovery Education, IT Worx, Kortext& Wiley and many more.


In his patronage letter Honourable Minister Yasser El Kadystated: "The summit is of great importance to the Government of Egypt and especially the meetings-based format allowing for productive face-to-face engagement between government, civil society and industry partners. The summit has our own high-level involvement from multiple ministers, senior government officials and stakeholders representing Egypt."

MENA Innovation will be structured around a highly productive meetings-based format giving the opportunity for industry partners and delegates to pre-schedule meetings with ministers and senior officials along with universities and leading research and educational institutions in the Middle East & Africa. The panel sessions during the event will also cover key aspects of the sustainable development goals, ICT investment, developing digital skills, vocational& technicaltraining and advancing innovation in science & research.
For more information on MENA Innovation 2018 please visit:
https://mena-innovation.com/2018/
To register your interest in attending please visit:
https://mena-innovation.com/2018/register/